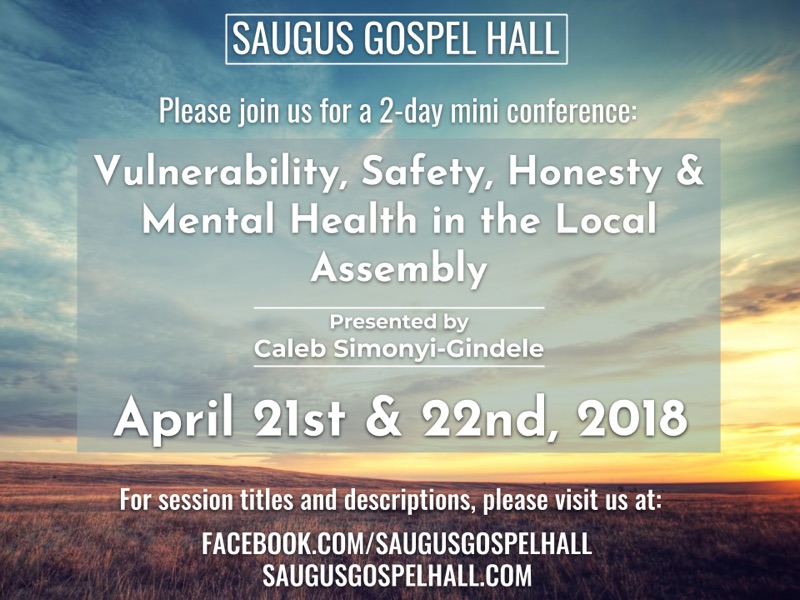 Please Join us for a two-day Mini Conference on April 21 and 22, 2018
Vulnerability, Safety, Honesty & Mental Health in the Local Assembly Presented by Caleb Simonyi-Gindele
Saturday
1:00pm: Session 1 – What Makes an Assembly Loving?
Loving one another is something that we all know we need to do. But how do we actually do that on a day-to-day basis? Moreover, how do we show love in the context of struggles (like mental health or addictions) that are difficult to understand? 
2:30pm: Session 2 – What Makes an Assembly Safe?
We rarely discuss safety in an assembly. Yet we all know the flesh brings strife and sometimes even division. We will identify the key sins to watch out for and the virtues that God calls us to display instead. How do we respond to everything from addicts to struggling parents in a way that makes it safe for them to come forward and ask for help?
4:00pm: Session 3 – What Makes an Assembly Genuine?
We love WYSIWYG in others: What you see is what you get. Our Lord Jesus Christ was like that. And yet we often struggle with really showing ourselves: who we are, what we actually believe, and how to be authentic. We will learn how to normalize human struggle, de-stigmatize mental health issues and manage the impact social media has on our families.
5:00pm: Supper Served
6:00pm: Session 4 – What Makes an Assembly Approachable?
Mental health issues are on the rise — despite the ongoing stigma surrounding them. How can we help one another acknowledge and navigate these issues? We'll look at anxiety, depression, addictions, self-harm and how to support one another through these difficult challenges.
7:15pm: Q&A Session
8:30pm: YP Event or Sing
Sunday 
10:00am: Remembrance Meeting & Lord's Supper
12:30pm: Lunch Served
1:30pm: Session 5 – What Makes an Assembly Resilient?
The gospel is at the core of assembly truth. And faith is not just for unbelievers. How do we apply these great truths to assembly practice in our contemporary world? We'll see how divine truth is profoundly relevant to the unique challenges of our generation.